I don't think any of us would have imagined that our stay at the Massachusetts Institute of Technology (MIT) would become such a powerful learning experience.
Signe Lin, who was the VP of Events of the ETH Entrepreneur Club last year, came up with the idea and motivation to organize InCube, the flagship event of the student association, here in Boston at MIT. InCube? The event has a simple Leitmotiv: placing large cubes with glass walls in public locations, having teams of students live in there for four days and letting them work on a real-life entrepreneurial challenge. The goal? Appealing to the curiosity of passersby, having a transparent innovation process while creating a creative thinking space for the students; a different approach aiming at new and fresh ideas in this condensed space and time. This pop-up hackathon seemed perfect for the "land of hackathons," a name that would be appropriate for the MIT campus, a university that takes pride in its long history of hacking. However, would a team of four students already busy with our thesis work, be able to handle this additional workload?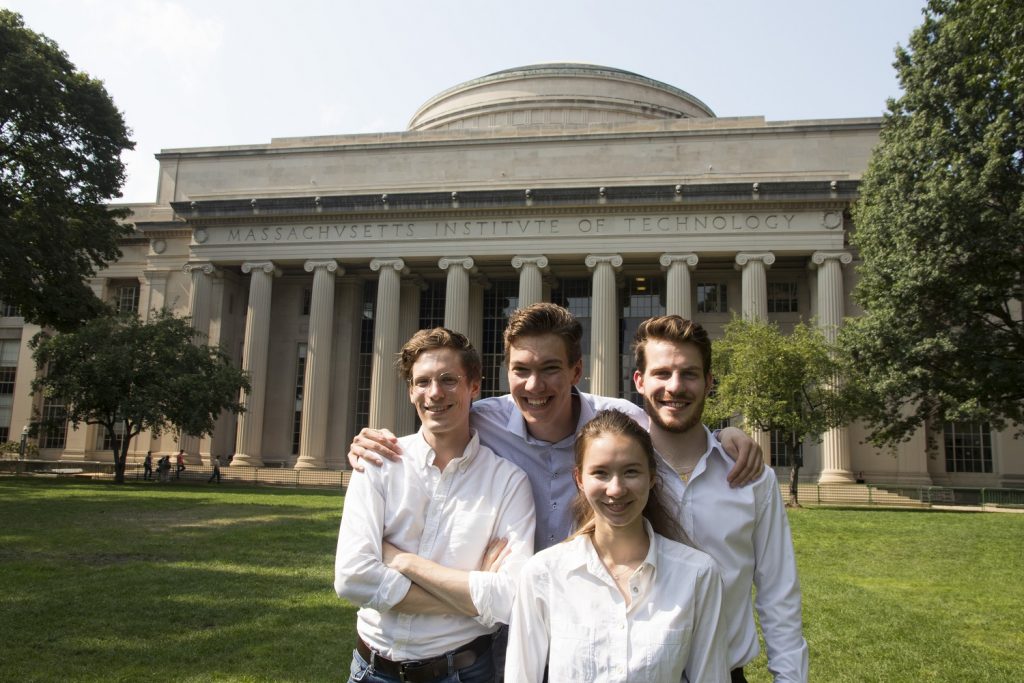 The organizing committee of the MIT cube (l-r): Benoît Jordan, Arno Schneuwly, Signe Lin Vehusheia and Philippe Nicollier (photo credit: Philippe Nicollier/ETH Zurich)
The organization of the cube here in the U.S. made clear how the dynamics of teamwork can bring the best out of us all. After the initial idea and the formation of our organizing team, we first had to find partners who would trust in our ability to organize such an event, and pitched our idea to a lot of different people across many networking events.
We all became pulled into the stream of optimism and excitement. We were able to partner with the MIT Innovation Initiative and got inputs from people with a long experience in everything that relates to innovation, as well as special insights into the complexities that exist at MIT, a foreign institution that was entirely new to us.
This definitely helped us to navigate through the administrative ramifications of the Institute, including coordinating with those responsible for facilities, for EHS (Environmental Health Solutions), for licensing and from the police. Many authorizations were necessary, and until shortly before the actual event, it was uncertain if we would be able to make everything happen as planned. We also had to find partners for food and furniture, run marketing campaigns and participant interviews, while securing the funds from a main sponsor. However, in between the hardships, some memorable moments stand out. One of them is probably meeting the senior management of our main sponsor Stryker in a meeting room at the top of a high-rise building with an incredible view over downtown Boston.
Even though some hardships had to be overcome, finding solutions to these issues was always a rewarding experience. Crucially, keeping a regular communication with our peers at the ETH Entrepreneur Club back in Zurich taught us how to handle a large-scale event taking place on two continents simultaneously. While InCube aims at fostering entrepreneurship among students, we, the organizing committee, lived through our own entrepreneurial experience.
We are now looking back at a successful first edition of InCube abroad. The five MIT students first got a taste of Switzerland and of the Swiss innovation landscape through a workshop weekend at Crans-Montana and a tour of Zurich, ETH, and the Rocket Hub, the startup co-working space of the ETH Entrepreneur Club.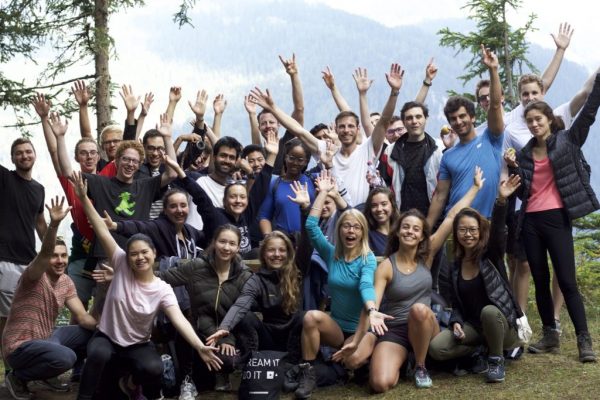 The MIT team met the participants of the Swiss cubes during a preparation weekend in Crans- Montana (photo credit: Philippe Nicollier/ETH Zurich)
The students worked on a medical technology challenge set by our corporate partner Stryker, broadly set as "reimagining the ambulances of the future." To achieve this, the team had the possibility of inspecting a state-of-the-art ambulance, riding in it, getting inputs from professionals such as paramedics and doctors, while having access to senior representatives from different divisions at Stryker. The team finally presented their solution via video broadcast in Zurich and finished in second place.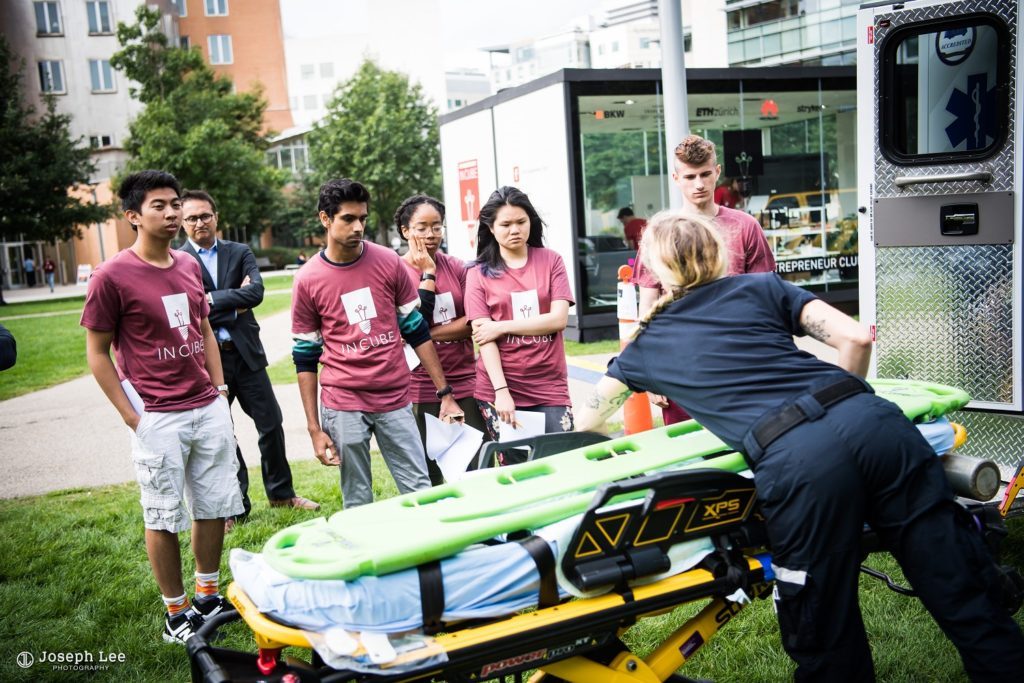 The MIT team gets a thorough briefing on state-of-the-art ambulances (photo credit: Joseph Lee Photography)
All in all, this experience was quite a ride for both us as organizers, and the students working in the InCube. Handling all aspects of such a large event added a variety of learning experiences to the scientific education we are getting through our thesis work. Finally, we are all hoping that the established partnership between ETH and MIT will continue for coming editions of InCube!
Philippe Nicollier is a master student in materials science at ETH Zurich and part of the Excellence Scholarship and Opportunity Programme.