"With an interdisciplinary attitude and an appetite for hands-on problem-solving, we define compelling new questions, attack them in novel ways — and bring our students with us every step. Analytical, practical, economically realistic, environmentally attuned, and globally aware, we instinctively work across boundaries and use the power of human organizations to deliver useful innovation to the world."
— President Rafael Reif from the "Presidential Charge to the Committee to form an MIT Innovation Initiative," October 17, 2013
In 2013, President Rafael Reif announced plans to create an MIT Innovation Initiative, naming Vladimir Bulović, the Fairborz Maseeh (1990) Professor of Emerging Technology, and Fiona Murray, the William Porter (1967) Professor of Entrepreneurship, as associate deans of innovation for the School of Engineering and Sloan School of Management, respectively, and co-directors of the initiative, to lead the effort.
After an 18-month-long process engaging in conversations across the community to understand student, staff, faculty, alumni and external corporate ideas on strengthening MIT's innovation and entrepreneurship landscape, and working closely with a 19-member Advisory Committee, Bulović and Murray delivered a set of recommendations for moving forward — suggesting a suite of resources, programs and facilities to aid in bringing innovations out of the labs and dorms into the world — and in July 2015, the initiative became a new entity at MIT.
Laying the foundation
Today, the Innovation Initiative functions as cross-school effort to strengthen and promote innovation and entrepreneurship at MIT. Our mission is to ensure that within the wealth of activities in the innovation and entrepreneurship landscape, we establish clear and effective pathways for the MIT community to move powerful ideas from conception to impact.
By understanding the needs of our community, we have been expanding hands-on innovation and entrepreneurship education and building a more extensive and user-friendly innovation infrastructure structure across campus. Rather than duplicate efforts, our aim is to strategically fill gaps in the landscape as well as to serve as a connector across the wide range of student groups, programs and campus centers dedicated to fostering innovation and entrepreneurship at MIT. Some of our key milestones include: building an interactive, online guide of over 85 resources for innovation and entrepreneurship on campus; developing learning objectives and structure for a new undergraduate minor in entrepreneurship and innovation that launched in 2016; and helping to incubate a number of programs such as Project Manus, MIT Hong Kong Innovation Node and Translational Fellows Program.
MIT Innovation Initiative 2.0
In order to build on this foundation, we are widening our strategic focus to further our core mission in more effective ways and to broaden our impact at every level — from individual and organizational to regional, nationals and global.
As part of this expansion, Michael Cima was named associate dean of innovation for the School of Engineering, joining Professor Murray as co-director of the MIT Innovation Initiative. Cima, the David H. Koch Professor of Engineering and faculty director of the Lemelson-MIT program, began his appointment in March 2018, taking over from Professor Bulović who departed after serving in the role since 2013 to lead MIT.nano as the inaugural director.
In addition, we established a set of four goals to help concentrate our efforts. These goals will serve as guiding principles for the initiative in the coming years as we work towards realizing our vision of bringing MIT innovation to the forefront and to ensure that our constituents have the resources they need to create their own unique pathway while on their ideas-to-impact journey at MIT.
Four Goals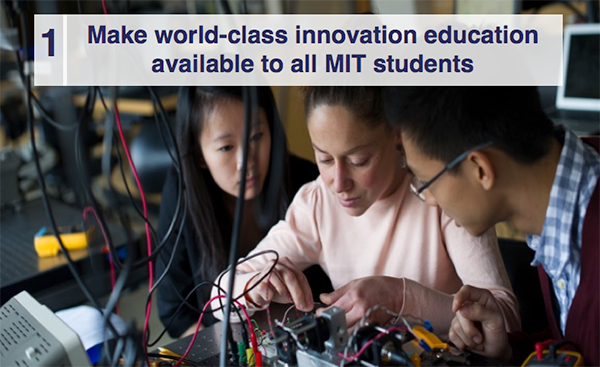 Benchmark: 100% of students wishing to move their ideas to impact at MIT have participated in innovation education.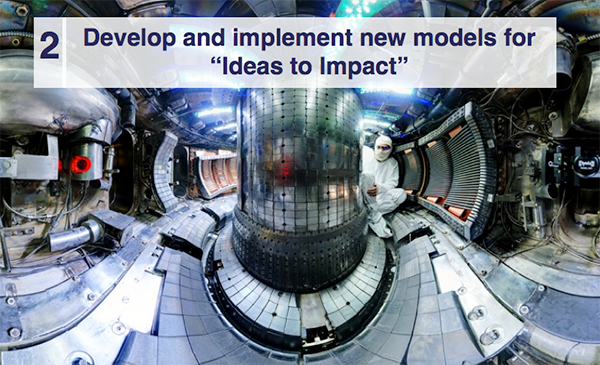 Benchmark: Change how MIT enables the transition of ideas from lab to impact, including how it deals with conflict of interest, IP, funding for translational research, venture creation and corporate involvement in startups.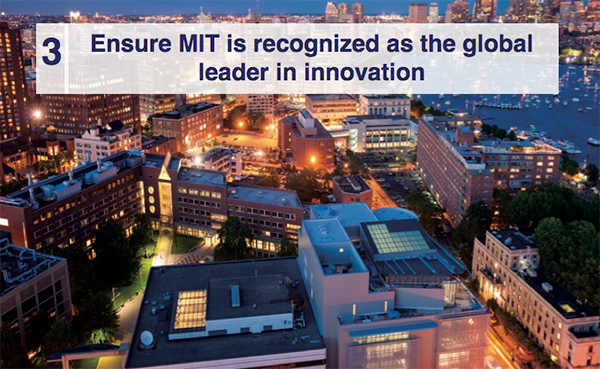 Benchmark: Significant year over year growth in global earned media related to MIT taking ideas to impact, and increase in MIT's position in rankings in innovation activities.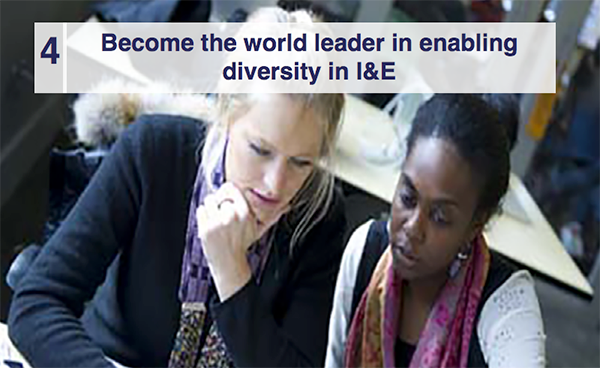 Benchmark: In five years, increase female and underserved minority representation in innovation and entrepreneurship programs at MIT by 100% across different stages of the idea to impact pipeline.
Blogging innovation
As we embark on this next phase of the initiative, we will be keeping track of our progress on this new blog. In addition to writing about our own activities here, we plan to invite others from the MIT innovation community to share their thoughts and experiences with us on a range of topics in the innovation and entrepreneurship sphere. Stay tuned!