As MIT charts the future of its campus and its engagement with the innovation community, it seeks to increase the vitality of its Eastern Gateway in Kendall Square. This broad vision will require a commitment to diverse projects: innovation space, housing, connected open spaces, retail, childcare, and commercial space.
Building E38 is a key anchor in this vision, serving as the I&E hub for student innovation and entrepreneurship activity and a welcoming entrance to MIT's east campus. E38 will remain a stand-alone building and the façade will remain intact, preserving its historic nature and connection to the past. However, the interior is being entirely transformed into a series of open and collaborative spaces that combine student collaborative and maker space with open office space for innovation and entrepreneurship program staff.
In total, InnovationHQ (iHQ for short) will encompass over 40,000 square feet of space for innovation and entrepreneurship activities. The design will draw on the experiences of the renovated E40 Martin Trust Center space, the MIT Innovation Initiative space in E70 (One Broadway), and other leading innovation spaces in the area. It will provide enhanced work spaces for our students with an emphasis on large, open, collaborative spaces where serendipitous meetings might occur, along with offices for key program staff and researchers, conference rooms, teaching spaces and meeting rooms. The intentional creation of multi-use space will encourage the cross-pollination of ideas among MIT students, faculty and staff, and the broader innovation community of Kendall Square.
History of "The Suffolk Building"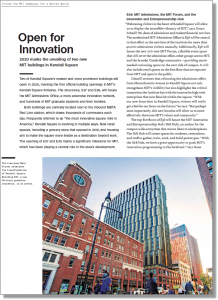 Download and read the MIT Spectrum Article
featuring E38: MIT Admissions, the MIT Forum,
and the Innovation and Entrepreneurship Hub.