Hosted by: MIT Lab for Innovation Science and Policy and MIT Innovation Initiative
Successful collaboration between universities and companies is essential for innovation. In this Innovation Science and Policy Impact Seminar, learn the five success factors for university partnerships based on a multi-year research project and forthcoming book where 10 leading companies share how they strive for excellence in university-industry collaboration.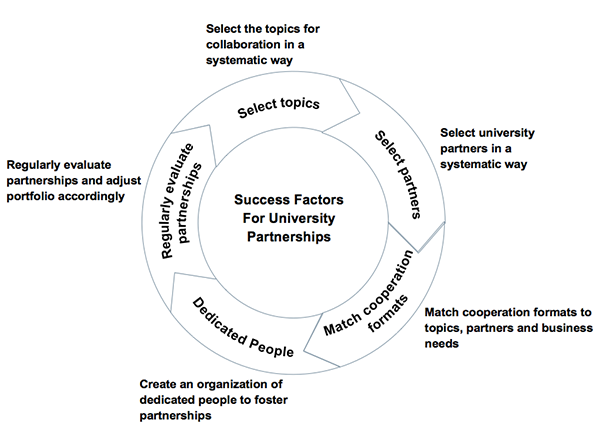 Goals
New research-based knowledge for creating and sustaining university partnerships
Meet and network with other leading professionals in the field of university-industry collaboration
Define the success factors for your organization
Presenters + Moderators
Fiona Murray Bill Porter Professor of Entrepreneurship, Associate Dean for Innovation, Co-Director, MIT Innovation Initiative
Vladimir Bulović Fariborz Maseeh Professor of Emerging Technology, Associate Director for Innovation, Co-Director, MIT Innovation Initiative
Lars Frølund Visiting Innovation Scholar and Fulbright Scholar
Steve Haraguchi Executive Director, MIT Innovation Initiative
---
Details
Thursday, June 29, 2017
MIT Industry Meeting Center
One Main Street, 12th Floor, Room E90-1208
Cambridge, MA 02142
View map
Agenda
1:00 pm  Registration

1:30 pm  Welcome & Background
1:45 pm  Six Questions to Get Your University Partnerships Right!
2:45 pm  Coffee Break
3:00 pm  University Partnership Canvas: The Case of Siemens
3:30 pm  Workshop: The University Partnership Canvas in Practice
6:15 pm  Wrap-up
6:30 pm  Networking Reception @ Firebrand Saints
Reading Material

In preparation for the seminar, please read the draft article, "Engaging in Regional Innovation Ecosystems: Six Questions to Get Your University Partnerships Right!," in which the authors argue that by working through six fundamental questions and a University Partnership Canvas, corporations can develop a more effective approach to their interaction with universities. Download PDF
Parking 
On weekdays, there is no public parking available on the MIT campus. Please go to the MBTA website for information on public transportation.
Visitors may find information on off-street parking in the local area here.
Registration
Registration is now closed. On-site registration will be offered on a space-available basis by cash or check only.
Questions? Contact innovation@mit.edu