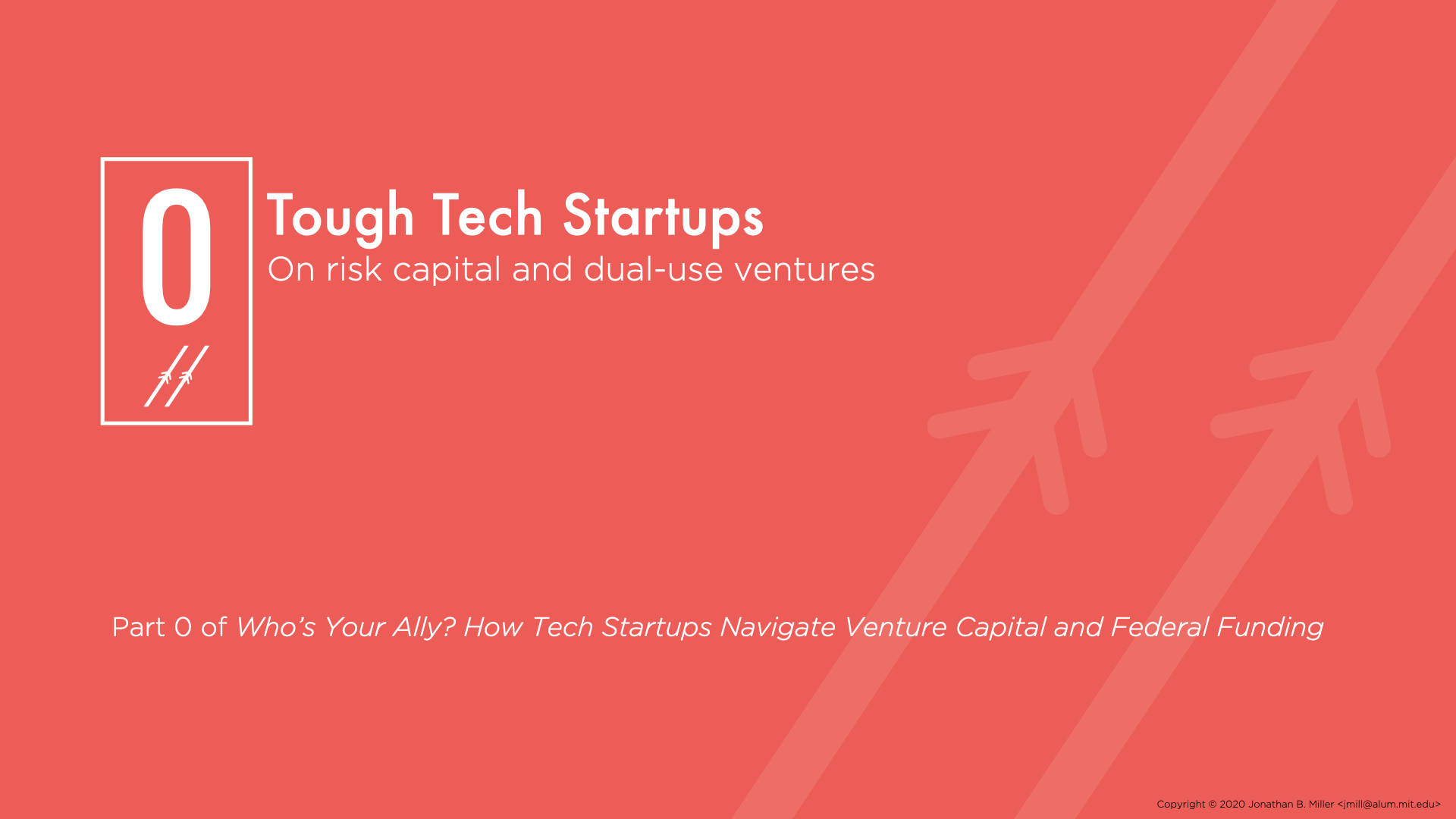 Part 0. 
Tough Tech Startups – O
n risk capital and
 dual-use ventures
"How can tech startups navigate venture capital and federal funding?" This is a series of six posts addressing the question, concluding with a map of investment firms that have exhibited varying degrees of interest in supporting such ventures. 
MIT Innovation Initiative uses the term dual-use ventures (DuVs) to indicate deeply-technical startup companies that serve or could serve, commercial and government clients. An example of a dual-use venture is Microsoft, as it serves commercial and government clients. Examples of commercial clients include enterprises and consumers. Examples of government clients include the US Department of Defense (DOD), National Science Foundation, or the Department of Health and Human Services. In practice, most observed US-based DuVs work with the US DOD, which has the largest Small Business Set-Asides among US agencies. 
Intended for 'tough tech' startup teams 
This series is primarily written for founders and early team members of 'tough tech' startups. Whether spinning out of a pristine laboratory or an unkempt dormitory, tough tech ventures and the entrepreneurs building them may be loosely defined by their work in an emerging area where science meets engineering, and may sometimes be referred to as working in "deep tech" or "frontier tech". The markets which such companies could serve may not yet exist, and the companies' development milestones may be measured in years rather than months. While some readers may have experience applying for, receiving, and completing government contract awards, this series is intended to provide baseline environmental awareness for self-selected tough tech entrepreneurs with no government experience. 
The following content is based on research specific to the United States venture ecosystem. Nevertheless, the gist of learnings may be globally translatable to other ecosystems, such as pertaining to the United Kingdom's Ministry of Defence (MOD) or the North Atlantic Treaty Organization (NATO). Interested readers may gain additional insight from my colleagues' May 2019 "Defense Innovation Report", written by Prof. Fiona Murray and Dr. Phil Budden.
What Venture Capital is and is not 
Venture capital is a form of private equity financing that supports the creation and growth of new companies. Unlike their conservative banking counterparts, venture investors (or venture capitalists, "VCs") focus on startup teams with the potential to 'move the needle' of entire industries and generate big financial and strategic returns.  
The bedrock of VC investing is a fund, which is a pool of money raised from a number of investors who form a legal construct called a Limited Partnership composed of Limited Partners (LPs). LPs include institutional managers, high net worth individuals, family offices, foundations, and a mix of other sources. Venture funds vary in value from a few tens of millions to billions of US dollars and these funds are, in turn, invested into startup companies in exchange for equity in the company. Each of these invested companies is a "venture-funded startup", or simply a venture with the cohort constituting the fund's portfolio. Risk of startup failure can be very high, so a venture fund must rely on one or two portfolio companies hitting a massive payday in order to compensate for the losses incurred by the rest of the startups in the portfolio.  
Additional explanations of venture capital are available here and here. Venture capital in the context of dual-use ventures will be described later in this series.
Concept of Operations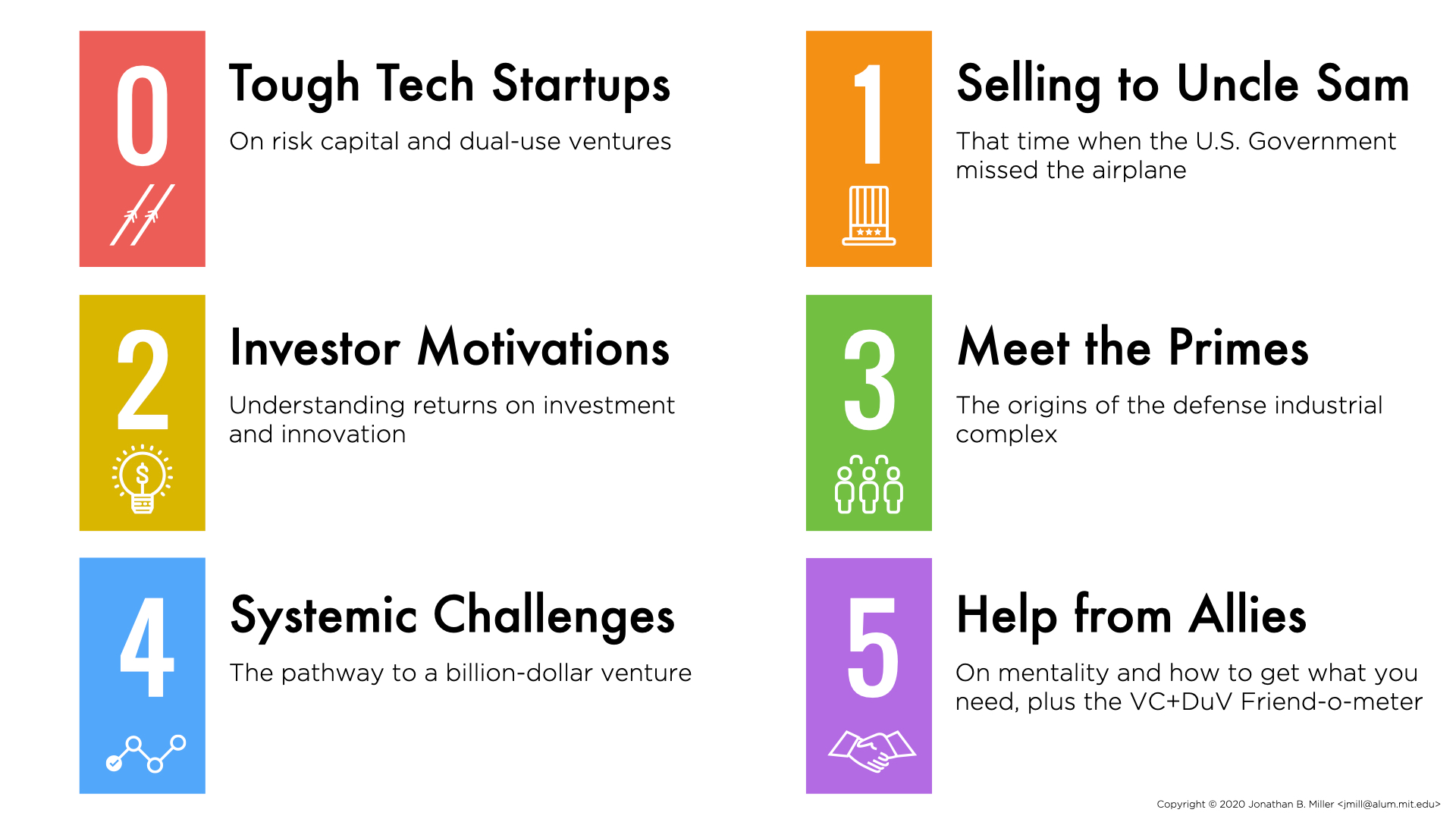 The parts in this series are:
0. Tough Tech Startups – On risk capital and dual-use ventures (the current article)
1. Selling to Uncle Sam – That time the US Government missed the airplane
2. Investor Motivations – Understanding returns on investment and innovation
3. Meet the Primes – The origins of the defense industrial complex
4. Systemic Challenges – The pathway to a billion-dollar venture
5. Help from Allies – On mentality and how to get what you need, plus the VC+DuV Friend-o-meter
After interviewing hundreds of folks, from venture capitalists, to government representatives, to aspiring and successful dual-use entrepreneurs, I developed the tool for organizing venture capital firms along two key dimensions: 
Enthusiasm for dual-use opportunities

. Ratings: 

Passionate

,

 Friendly

,

 Opportunistic

, 

Unknown or has potential

.

 

Comfort with tough technologies

. Ratings: 

Tough Tech, Established Tech, Non-Technical
How this content came to be 
The basis for this content was originally presented in lecture form in January 2020 as part of the Massachusetts Institute of Technology's "Dual-use Ventures" course that my colleagues and I developed. The content has been extended and revised based on subsequent learnings.  
 Earlier this year we launched the MITii STTR Program to help startups attain Phase I and Phase II awards with the US Air Force. Current and former students, staff, and affiliates are all eligible.
My background 
I performed applied R&D in robotics and telehealth for a nonprofit on behalf of the US Army and Navy and then became a venture founder, advisor, and investor. Having started several tech companies, I enjoy helping others grow. I am a contributor in frontier tech work for Airbus Ventures, Alphabet X, and the Massachusetts Institute of Technology, where I am a research affiliate with the MIT Innovation Initiative. 
Thank you to Kathryn Person, Malvika Verma, Mariemma Miller, Gene Keselman, and Irina Franklin for reviewing drafts of this series. Thank you to the many entrepreneurs, investors, and researchers who shared their time and experiences with me as I was putting together this work. █ 
Copyright © 2020 Jonathan B. Miller <jmill@alum.mit.edu>