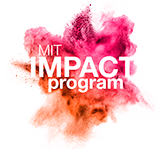 IMPACT provides career development for post-doctoral and advanced pre-doctoral trainees through a six-month mentorship program to focus their work for heightened real-world value. It was prototyped in 2015 at MIT through the Innovation Initiative, and has since won a grant from the National Institutes of Health to sustain it for five years. The expanded program now includes trainees from research institutions across the region — currently including Brandeis, Harvard, Beth Israel Deaconess Medical Center, Boston University, Massachusetts General Hospital, Tufts, Mass Eye and Ear, and UMass Medical, as well as MIT.
The program is designed to help trainees, known as IMPACT Fellows, to sharpen their career focus, explore alternative career paths, and develop their skills at articulating their work for diverse audiences. Meeting weekly, Fellows work in groups and 1:1 sessions with mentors. Upon completing the program, trainees will have obtained first-hand experiences exploring important personal and professional challenges that otherwise may take years to encounter, and greater confidence to make strategic decisions about their future.
IMPACT trainees come from a wide range of research programs in chemistry, biological engineering, mechanical engineering, chemical engineering, brain research, materials science, and other areas. The program enrolls approximately 20 Fellows per semester.
Faculty mentors in IMPACT represent a similar diversity of institutions and expertise. They represent MIT, Beth Israel, Harvard Medical School, MGH, BioVentures Investors, Brigham and Women's Hospital, Syros Pharmaceuticals, Concert Pharmaceuticals, PDS, and others. The 28 mentors have expertise ranging from basic science to engineering, product development, and technology commercialization.
IMPACT is part of IMES (the Institute for Medical Engineering and Science) and the MIT Innovation Initiative.
Advanced pre-doctoral and post-docs at any point in their appointment are welcome to apply.
Contact