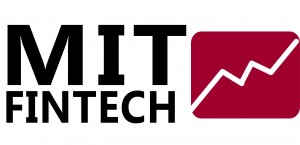 An initiative of the Martin Trust Center for MIT Entrepreneurship, MIT FinTech aims to build an entrepreneurial ecosystem in financial technology and innovation on campus. MIT FinTech believes the Institute is uniquely positioned to create successful entrepreneurs and innovators in financial services. The group's objective is to foster the MIT community's endeavors in this space through a range of activities spanning all stages of entrepreneurial development: community creation, ideation, courses, competitions, industry connections and early-stage incubation.
2015 saw some major developments for the FinTech ecosystem at MIT: The MIT FinTech club was created, and the first-ever MIT FinTech Conference took place in May 2015, bringing together more than 400 students, startup founders and executives, bank innovation executives and practitioners to discuss the latest innovations in the space and listen to a stellar lineup of speakers, including Daniel Nadler, founder of Kensho; Ben Milne, co-founder of Dwolla; and John Fawcett, founder of Qquantopian. The 2016 MIT FinTech Conference is scheduled to take place in April 2016 and the group is ready to host more than 500 people and become not only the premier student-run FinTech conference in the world, but one of the key FinTech events on the East Coast. Confirmed speakers to date include Kathryn Petralia, co-founder of Kabage; Brian Peters, executive director of Financial Innovation Now; and Adrienne Harris, Special Assistant to the President for Financial Policy.
In addition, MIT started the first graduate course covering FinTech in the U.S., 15.S09 (FinTech Ventures).Throughout the seven-week course, students explored different sub-industries within the FinTech space, including consumer finance, payments, trading and cryptocurrencies. Enrolled students were also asked to develop business plans for their own FinTech ideas in teams that will be eligible to compete in the new
PROGRAMS | EVENTS | OPPORTUNITIES
Business Plan Competition
The annual MIT FinTech Business Plan Competition is where the leading FinTech companies and business ideas developed by MIT and Harvard students are showcased to the FinTech ecosystem.
MIT Fintech Conference
MIT FinTech Conference brings together emerging and established entrepreneurs, current industry leaders, and policymakers to discuss innovation and disruption over the next decade.
CONTACT
mitfintechofficers@sloan.mit.edu