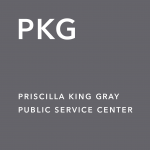 The PKG Center helps MIT achieve its mission of working wisely, creatively, and effectively for the betterment of humankind. PKG programs provide encouragement, advice, logistical support, and funding to help students engage in meaningful and effective public service work in the local community, throughout the United States, and around the world.
The PKG Center goal is to enrich the MIT education for students through hands-on, real-world opportunities that complement the innovative culture of MIT. Programs are designed to help students apply classroom learning, develop new skills, and understand the complexities of resolving challenges while working collaboratively with communities.
Programs & Opportunities
Fellowships
Fellowships support work with community-focused organizations: nonprofits, government offices, aid agencies, schools, for-profit social enterprises, student-initiated service enterprises, and others. PKG fellows can collaborate with a partner in the community, pilot a social enterprise, or explore a public service career.
IDEAS Global Challenge
IDEAS is an annual innovation and social entrepreneurship program that enables students to apply their MIT education in real-world situations to tackle quality of life issues for people around the world.
Federal Work Study
Students who qualify for federal work-study are able to build their work experience while assisting nonprofit organizations with finding creative solutions to the problems they face.
PKG IAP
Students looking to explore a designated field may participate in this 4-week immersion program. Currently PKG IAP pairs accepted students with local health care practitioners to learn about and address medical and public health efforts in Boston and Cambridge. Students are part of a group cohort, often volunteer in teams, and reflect on their experiences together.
Active Community Engagement (ACE)
Incoming first year students can participate in the Freshman Pre-Orientation Program, which offers a fun group experience for freshmen to volunteer locally and learn about social justice topics that impact our neighboring communities.
PKG Spring Break
This program creates group experiences where participants engage in week-long immersion projects. Together, groups meet community organizations and nonprofits that are addressing social challenges in our local and broader communities. Group members consider the challenge from different angles and perspectives, and try to better understand the context of the challenge and those it impacts. Students often also engage in smaller-scale volunteer projects as part of these immersive experiences.
Contact
Follow PKG Center on Social Media